Successful EMC verification for our electronics
07
In October 2017 we instructed the research and development company of FH Kärnten mbH to test our Spider electronics relating to EMC (electromagnetic compatibility) standards.
We had some problems with our Spider version 2 which we completely eliminated with our new version 4. With the new version we passed each testing criteria.
Our EMC standard is "EN 61326-1"
With a good feeling and the confirmation of the proper quality of our products we start to new projects in the near future!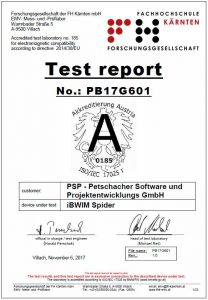 Comments are closed.